The World Trade Center Abuja features Residential Towers designed to appeal to discerning A-list owners and investors. The Tower One Residences available for immediate limited release feature elegant and spacious 1 to 6 bedroom layouts in single floor and duplex floor plans.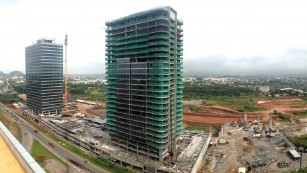 Construction is now nearing the end of the first phase, which comprises the residential and commercial towers. The former will offer luxury apartments with modern amenities, while the latter will accommodate businesses of various sizes, with offices ranging from 100 to 1,440 square meters.
The buildings, at 24-storeys each, are set to define the capital's skyline: the Commercial Tower is the tallest office building in Abuja, while the Residential Tower is the tallest residential building in Nigeria.
Future phases include the construction of a shopping mall and a 37-storey hotel, which will be among the tallest skyscrapers in the continent.